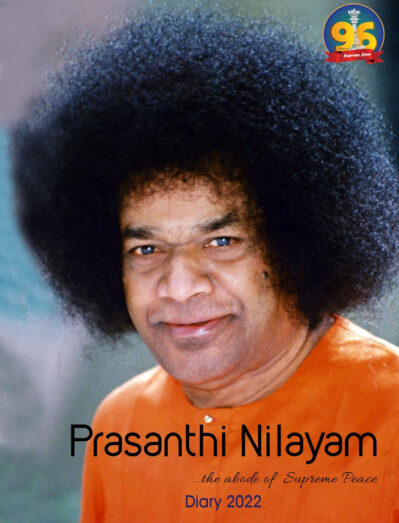 The Diary for the year 2022 has a theme article on The Glory of Prasanthi Nilayam, and a six pages write-up under the captions:
Bhajans for Unity, Purity, Divinity
The Sri Sathya Sai Mission of Veda Posahana and
Seva and Sadhana. It also has inspiring quotations of Bhagawan at the bottom of each of the two-colour diary inner pages.
Specifications:
Total 380 pages, Size: 14.7x20.6 cms, multi-colour matt laminated cover with title in gold foil, art work, spot lamination, knurling and curved stitch-binding; 22 multi-colour pages in art paper including six beautiful photos of Swami, Divya Sannidhi and beautiful collage of important places to visit in Puttaparthi.