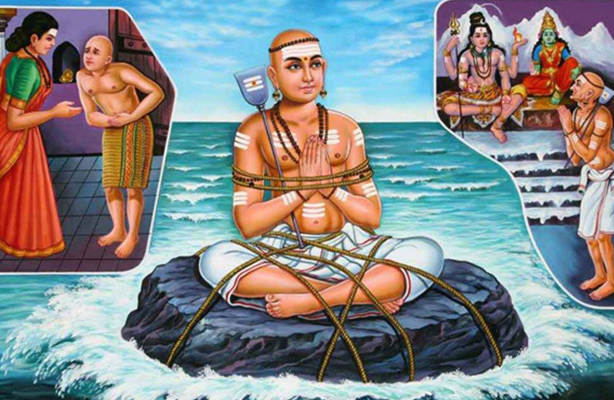 Marulneekiar, who later came to be known as Thirunaavukarasar (Appar), was born in Thiruvamoor (near Panruti) with Thilakavathiar, a loving sister. Thilakavathiar was highly devoted to Lord Shiva and led the life of an ascetic. Her glorious ascetic life has been sung by Sekizhar, the author of Thirumurai. She was like a mother to Marulneekiar who to her dismay, followed Jainism though he was born in a Hindu family. Thilakavathiar would pray fervently to Lord Shiva pleading to Him to bring her brother to the path of Shaivism.
As was the Divine will, Marulneekiar fell sick and went to the Jain monks to seek cure for his ailment (severe stomach ache). When they failed to cure him, Marulneekiar went to his sister who immediately smeared the holy ashes on his body.
Feeling relief from the pain and elated, He thanked the Lord for taking him out of the ocean of suffering and darkness of ignorance. He sang the 'Kootrayinavaaru' thirupadikam (hymn). The Lord who was immensely pleased with his song, which was enriched with meaningful lyrics, gave him the name, "Thirunaavukarasar" – the King of divine speech!
Jains who were present in large numbers then in the State were upset with him for embracing Shaivism and dragged him to their King. He was put to several hardships. The King even issued orders that Thirunaavukarasar should be tied to a stone and thrown into water. Undeterred and with firm faith in Lord Shiva, Thirunaavukarasar broke into another composition, "Sotrunai Vedhiyan". As soon as he finished the song, the stone began to float and the great devotee was washed ashored with the stone. Thus, the Lord saved His devotee. He overcame several such punishments.
Appar, as he was called fondly by Thirugnana Sambandar, is among the four great nayanmars and has visited several shrines of Lord Shiva and sung Padhigams. Of these, 312 have been retrieved. He merged with the Lord in Thirupugalur.
References:
shaivam.org
http://www.dlshq.org/download/nayanar.htm