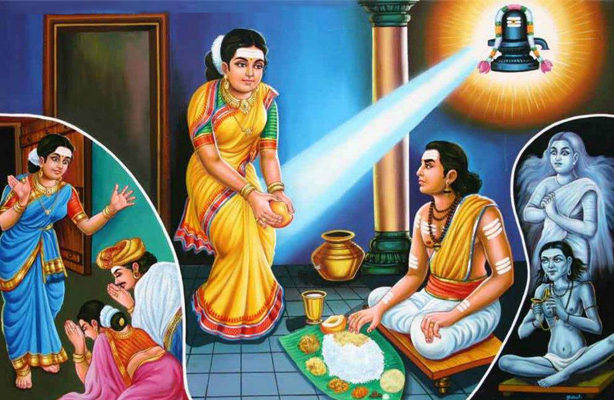 Karaikal Ammaiyar whose original name was Punithavathiar, was born in Karaikal, Puducherry. She was married to Paramadattan, a wealthy merchant. One day, Paramadattan's friend sent two mangoes to Punithavathiar who kept them safely to serve her husband along with his meals.
That day, A Shiva Bhakta who looked tired and exhausted came to her doorstep asking for alms. Punithavathiar immediately gave him one of the mangoes. When Paramadattan came for his meals, Punithavathiar served him the mango along with his meal. Paramadattan ate the mango and asked for the other mango as he knew his friend had sent him two of them. Punithavathiar prayed to her Lord to help her and suddenly she found a mango in her palms. She offered this to her husband who realized that it tasted exceptionally sweet and asked her to tell him from where she had got it. Punithavathiar confessed that her Lord had given it to her.
He realized that his wife was not an ordinary mortal but rather a divine being and it would be a sin to live with her as her husband. He left the house and moved to another village where he took up a job and married another woman. When Punithavathiar came to know about this, she went to meet him and was astounded when her husband and his new wife touched her feet with reverence.
Her husband admitted that he considered her to be a Goddess. Feeling heartbroken, she prayed fervently to her Lord requesting Him to give her the form of a Ghost as she no longer desired to live in the human form. The Lord granted her prayer and she went on a pilgrimage to Kailasa by making the last part of the journey on her head. Mother Parvathy was surprised to see Punithavathy's strange demonic form and was impressed with her wonderful devotion. Lord Shiva told her of Ammaiyar's greatness.
When the Lord's divine eyes fell on this great Ammaiyar, He exclaimed with affection, "Amma!". Thus, the Lord who is the Mother of the entire universe Himself addressed the saint as "Mother"!
Ammaiyar pleaded to Lord Shiva to give her a place at His Lotus feet! The Lord asked Ammaiyar to proceed to Tiruvalangadu to witness His cosmic dance. With the Lord's blessings, she went to Tiruvalangadu and spent her life singing the praise of Lord Shiva.
References:
shaivam.org
http://www.dlshq.org/download/nayanar.htm